Weight Loss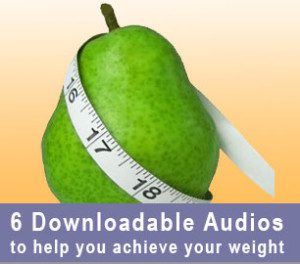 Find And Easily Maintain Your Perfect Weight?
We've all done it. Eaten until our stomachs feel like they will burst, or grabbed a fat-filled, fast food burger. We promise ourselves we we'll go on that diet, after we finish this last….pizza…..loaf of bread…..bag of peanut M&Ms.
You have probably started weight loss programs with good intentions, done well for a while, and then slipped back into your old comfort food habits. All the while berating yourself for your weakness.
Stress eating, in all it's forms is alleviated with hypnosis. Understanding your triggers, taking control of your appetite, reducing your stress in healthy ways, eating mindfully and banishing your inner critic boosts your compliance with any healthy eating program.
Be sure to visit our online store to purchase one or all six of the audios that will help you achieve your weightloss goals.
Hypnotherapy helps you:
Learn to love healthy foods

Enjoy activities that burn calories

Eliminate Stress Eating

Identify Eating Triggers
Stop Limiting Beliefs

Appreciate Your Body

Eliminate Cravings

Reach and Maintain Your Goal
"After just one session, I was able to stick to my diet without all of the previousproblems that I was plagued with. Several months later, I am down to my weight of two years ago."
Email or call 650-722-1956 today for a FREE consultation. Learn how transpersonal hypnotherapy can easily help enrich your life.
Or sign up for a six-week weight loss class designed give you the tools to keep your weight loss on track.